Virginia Pre-Trial Data Project
The Virginia Pre-Trial Data Project ("Project") was developed due to the significant lack of data readily available to answer many important questions related to the pre-trial process in Virginia. The Project represents an unprecedented, collaborative effort across all three branches of government to examine matters related to the pretrial process. The Project focused on the pre-trial period, which includes the various stages of a criminal case from the time a defendant is charged with an offense until the final disposition (trial and/or sentencing) of the matter. The Project involved collecting and merging data from numerous state and local government agencies into a singular dataset that resulted in a cohort of 22,986 adult defendants charged with a criminal offense during October 2017 (referred to as the "contact event"). These defendants were tracked during the pre-trial period until the final disposition of their contact event or December 31, 2018, whichever date occurred first. Up to 850 variables were captured for each of the defendants in the Project dataset, such as demographics, offense details, criminal history records, bond amounts, court appearance and public safety rates, assigned risk levels, and final dispositions. A statewide and locality descriptive analysis was conducted for the 11,487 defendants in the cohort who were charged with a criminal offense punishable by incarceration where the bail determination was made by a judicial officer.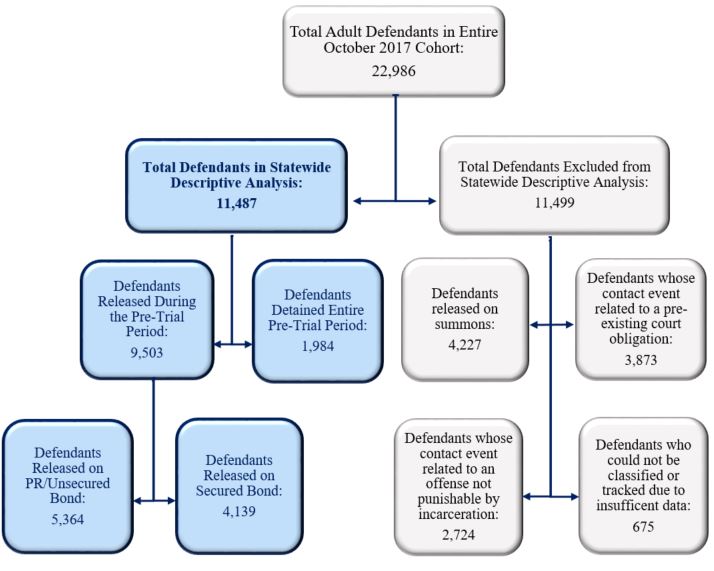 The Crime Commission has provided the complete Virginia Pre-Trial Project dataset to the Virginia Criminal Sentencing Commission (VCSC) as required by law (HB 2110/SB 1391). The VCSC has made this statewide and locality-level data publicly available as an electronic dataset, excluding any personal and case identifying information, and created a Pre-Trial Data Project webpage. The public can filter and view information in the dataset at a statewide and locality-level based on numerous different variables selected by the user. For specific information about all of the variables contained in the dataset, see the complete Virginia Pre-Trial Data Project Codebook.
Virginia Pre-Trial Data Project: Final Report
Virginia Pre-Trial Data Project: Key Findings
Virginia Pre-Trial Data Project: Executive Summary
Appendix B: Statewide and Locality Profiles

Locality Profiles: